We shouldn't have to withhold aspects of ourselves in order to fit in.
Trust and mutual respect are essential requirements for surfacing a teams unique perspectives and collective strengths.
Psychological safety is described as a sense of belonging to a team with the opportunity for individuals to share their background, experiences and perspectives without concern of being judged, ridiculed or excluded. It implies being able to bring your 'whole self' to work and is recognised for building a team culture which:
Research undertaken by Harvard suggests that organisations with a higher level of psychological safety perform better on almost any metric, or KPI, in comparison to organisations that have a low psychological safety score.
The absence of psychological safety triggers the 'self-censoring' instinct which results in people diverting energy and focus to 'fitting in' at best with a high probability of disengaging, if not physically leaving the organisation. This can result in a significant cost to affected individuals (mentally and emotionally) and to the organisation (diminished productivity and creativity).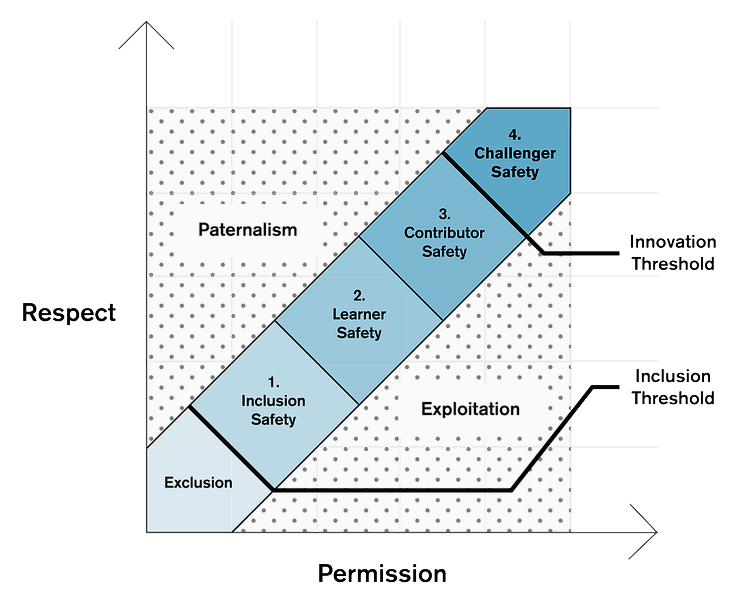 Timothy R. Clark, 'The 4 Stages of Psychological Safety: Defining the Path to Inclusion and Innovation' (Berrett-Koehler 2020)
Curious, Connected & Collaborative Teams
An Interactive team experience which explores the foundation behaviours for building psychological safety and cultivating an environment which accelerates learning, increases contribution and stimulates innovation.
The dynamic workshop series can be delivered in-person, virtually or with a blended approach.
An individuals capacity to share their diverse background, experiences and perspectives without being judged, criticised or excluded is a necessity for cultivating a curious, connected and collaborative culture which enables people to thrive. The workshop explores the following foundation behaviours as a catalyst for 'forming and norming' new habits and ways of working:
3 Steps to building belonging
Casting the growth safety-net
Harnessing potential
Embracing dissent & navigating conflict
Leading by example
Psychological safety is relevant now more than ever as we are living and working through a period of extraordinary uncertainty characterised by rising levels of anxiety, depression and stress which shuts down learning and blocks creativity and collaboration.
A focused approach for building psychological safety offers many benefits including enhancing the wellbeing of individuals and the creativity and overall performance of teams.
4 Stages of Psychological Safety™
Team Survey
We are certified in Timothy R. Clark's '4 Stages of Psychological Safety', a research-based framework and assessment tool to support leaders to transform their organisations into 'sanctuaries of inclusion and incubators of innovation' with consideration given to four core interrelated areas.
Undertake a comprehensive 'pulse check' to ascertain your teams experience of the four core areas of psychological safety relating to inclusion, learning, contributing and challenging the status quo.
Features of the 4 Stages of Psychological Safety™ Team Survey include:
Succinct:
Minimal time and effort is required to deliver impactful data-driven insights. The survey consists of 12 questions with three questions for each focus area (i.e. inclusion, learning, contributing and challenging).
Action orientated:
each assessment report prioritises the key areas which would benefit from improvement. This is supported by a comprehensive Behavioural Guide, which outlines a set of concrete steps that teams can apply in each of the 4 areas along, along with a 5-step action plan to support with tailoring an approach to increase psychological safety for your team.
Flexible:
the survey can be used for teams of 5 or greater, including an entire organisation, and is applicable to social units of all kinds (e.g. schools, sporting clubs etc).
Cost effective:
the 4 Stages of Psychological Safety™ Team Survey is offered at a highly competitive price point which represents value to establish a baseline regarding the extent to which a team is sustaining an inclusive and innovative culture, with the ability to easily retest to measure progress.
The capacity to measure and prioritise areas for strengthening psychological safety is a key capability in this current environment and ensures the time and resources invested into cultivating an inclusive and innovative culture is responsive to actual feedback (rather than perceived needs and preferences) to deliver maximum results for teams and the broader organisation.